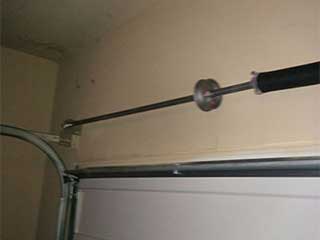 Broken springs are one of the most common issues we get calls about. Over time, the extreme pressure pent up in the springs can lead to natural wear and tear, eventually leading them to slacken and snap completely.
Keeping Them In Good Condition
The surest way to prevent your springs from snapping is to ensure they are regularly maintained by a professional. We recommend scheduling service checks at least annually to ensure these components are well adjusted, free from rust and properly lubricated. Our technicians can look after this for you - just give us a call to arrange an appointment.
What Happens When A Spring Breaks?
You will usually hear a loud noise coming from the direction of your garage and will find that your door is no longer operable – you simply won't be able to open or close it. The springs are responsible for the lifting and closing of your door meaning you won't even be able to open the door manually if one of these parts has broken. If your springs look like they may be about to give way or have already broken, you should get in touch with a trained professional right away. These components can be very dangerous and unpredictable to handle yourself so always call an expert rather than try to handle them yourself.
The Different Types
There are two types of springs used in garage doors, torsion and extension. The torsion type is a single spring held above the door in very high tension, it uses torque when in motion. Extension types on the other hand are mounted along the sides of the door and expand and contract as the door opens and closes.
Our trained professionals at Garage Door Repair Cumming in Georgia can handle and replace these components, regardless of the type and make or model of your door system. You can trust us to deliver a timely and quality service, and we also offer an emergency repair service for when you need someone really quickly. Talk to us today to make your appointment.
We also take care of:
Garage Door Tune Up Services
Liftmaster Garage Door Openers
Oil Tempered Torsion Springs
Garage Door Off Track Repair