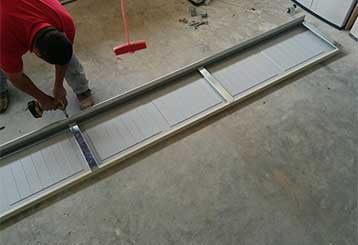 Whether you have a modern aluminum garage door, an insulated steel door or a decorative carriage house style door, our professionals have the experience and know-how to help you out with any repairs or replacements. Our trained team will respond quickly to your call, and assist with any door problems you're experiencing whether a door off track, broken belt or chain, or damaged spring. They'll troubleshoot any issues you're having and provide you with the best course of action for your situation.
Fast Response Service For Emergencies
Our local professionals will arrive as quickly as possible if you're dealing with an emergency and find yourself in need of repairs as quickly as possible. We know how much of a headache it can be if you're unable to open or close your door properly and have somewhere to be.
Spring Replacement Services
All doors use a certain set and type of spring according to their height and weight and are either extension or torsion types. The torsion method of lifting which uses torque is used for heavier, more industrial doors while the latter is suitable for most residential premises. Regardless of the type of spring you have, if your spring breaks you will be unable to use your door – our team is on hand to replace it for you.
Has Your Motor Gear Worn?
If your opener seems to have simply stopped responding, this could signal a worn out motor gear. Usually, when this happens, you'll hear a strange noise and your door won't open when you attempt to use it. If this is the problem with your opener, we can sort it for you without hassle.
Preventative Maintenance For Components
With our routine checkups, you can save money and time in the long run by avoiding an emergency and expensive repairs. We recommend annual checks at least to keep your system in good check – as part of this service, we will confirm your system is well-lubricated, adjusted and poses no safety risks.
Regardless of your needs, contact our professionals at Garage Door Repair Cumming in Georgia for services you can trust. Our technicians are not chosen by accident, but for their experience and skills.
We Also Offer:
Extension Spring Adjustment
Garage Door Safety Inspections
Emergency Garage Door Services