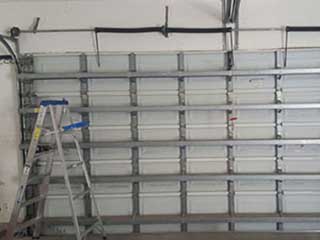 Most households today come with garages. These large mechanisms require proper attention through their lifespan in order to continue performing safely and reliably. Without regular maintenance, neglected or unattended doors can eventually experience considerable wear and tear, which can lead to malfunction and poor performance - from loud grinding or screeching, to the entire door getting stuck midway. In order to avoid these kinds of 'surprises', we strongly recommend you take preventative measures by having your door serviced at least once a year.
Importance of Lubrication
Without regular lubrication of the moving parts in your system, you may notice your door becoming shaky, slow, and noisier – these components are in a constant state of friction and can wear considerably without upkeep. Our technicians are fully trained in this area and can handle all of your related needs so that your door continues to function smoothly.
Tightening And Adjusting
As your door is in such regular use, components can become misaligned and screws, nuts and bolts may become loose over time. It is important these things are detected before they snowball into larger problems. During a service appointment, our technicians will inspect your system and tighten any parts that need it.
We Perform All Necessary Safety Checks
During a routine maintenance appointment, our specialists will perform the necessary safety checks to ensure the door is up to current safety standards and poses no safety hazard. In order to test the safety sensors and reverse mechanism function, our technicians will confirm that the door automatically reverses if something is in the path of the door. It is important to check that this functionality is working smoothly as without it, the risk of injury and damage will increase each time you use your door.
Arranging an Inspection
Contact our experts at Garage Door Repair Cumming in Georgia today to book your professional maintenance appointment – you can rely on us to provide a thorough and reliable service. We look forward to hearing from you!
Count on us for:
Overhead Door Repair & Installation
Galvanized Torsion Spring Installation
Genie & Liftmaster Opener Repairs
Door Opener Troubleshooting Services